Raw Cauliflower Popcorn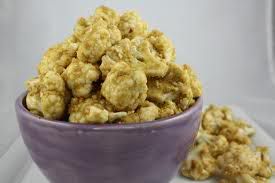 Ingredients:
• Cauliflower (1 whole chopped in popcorn size pieces)
• Nutritional Yeast (a whole lot, just pour it in, maybe 4-8 heaping teaspoons)
• Sea Salt (1/2 teaspoon or more, to taste)
• Olive Oil (1/2 – 1 teaspoon)
• Water (just a splash)
• Optional: Coconut Oil (melted, just a teaspoon if you want to replace the olive oil)
Directions:
1. Measure and prepare all the ingredients for the Raw Popcorn and put in a gallon size zip lock bag.
2. Shake that bag until your arms hurt.
3. You can make it cheesier by adding more nutritional yeast
Note: You can eat the Raw Cauliflower Popcorn as-is, or you can dehydrate it for 4 – 8 hours and it will shrink up into yummy little crunchy pieces. Be sure to go easy on the salt if you dehydrate as the flavors will intensify.