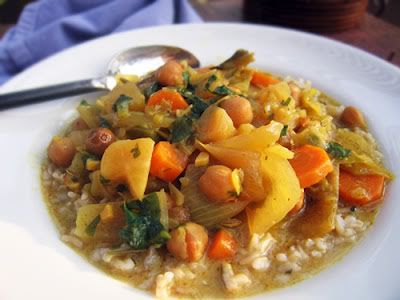 A Crock Pot Curry Recipe with Coconut Milk
Gluten-Free, Vegan Curry Crock Pot Recipe
Ingredients:
2 tablespoons light olive oil
5-6 cloves fresh garlic, minced
1 red onion, diced
2-3 teaspoons gluten-free red curry paste , to taste
1 teaspoon ground ginger
2 stalks of celery, chopped
1/2 head white or purple cabbage, shredded
2 large carrots, peeled, sliced or chopped
1 large sweet or gold potato, diced
2 apples, peeled and chopped
1/4 cup golden raisins
1 14-oz. can chick peas , rinsed and drained well
3 cups vegan broth, more if needed
To add in after veggies and potatoes are cooked:
1 cup lite coconut milk
A bit of raw organic agave
Sea salt and black pepper
A squeeze of fresh lime
Chopped fresh cilantro
Instructions:
Pour the oil in the bottom of the crock pot
Add the garlic, onion and spices
Stir to coat
Add the rest of the ingredients in the first list
Stir briefly to combine
Cover and cook on low heat for about 5-6 hours or until the vegetables and potato are tender
***Before serving, add in the coconut milk, a touch of agave, seasoning and lime or vinegar. Add some chopped cilantro.
Cover and heat through an additional 15 minutes or so.
Serve with brown rice.