Spinach Hummus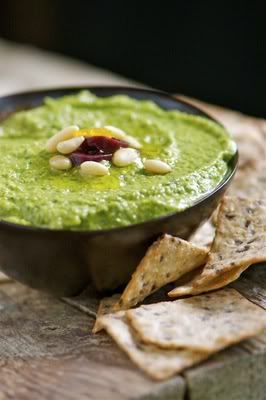 Ingredients
• 1 can chickpeas
• ¼ cup tahini
• 1 teaspoon garlic powder
• 1 -2 tablespoons lemon juice
• 1 tablespoon Bragg
• ½ cup water
• ¼ cup olive oil
• 1 teaspoon salt
• 1 teaspoon dried oregano
• 1 teaspoon dried basil
• 2 cups spinach
Directions
1. Pour all hummus ingredients into a food processor and pulse until well-combined.
2. Scrape down the sides of the food processor bowl and then process until you achieve a fine consistency.
3. Pour the hummus into a serving bowl and garnish with olive oil, pine nuts, and sliced black olives. Serve with pita bread or your favorite crackers.