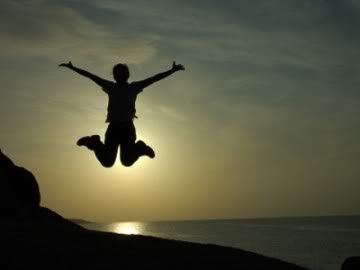 By: Jamie Len Cumbo
Going through a weight loss transformation like the one I went through last year, showed me that there are many pieces to the puzzle to get to your fitness goals. And being happy on the inside is a big link.
Yes. I go through periods where motivation seems to come naturally. I also have days where I have to fight through my workouts with every fiber of my being just to push play. Regardless if it's a lack of mental motivation or if I have another flare up, it happens.
And no, it has not been easy staying optimistic on those 'bad' days. But, I am learning to deal with the cards I have been dealt, all with a smile on my face. And in the end, not only am I happier but I'm able to help others along the way.
I've learned that many people struggle with their health in some way. Whether it's a lack of motivation, willpower, support, an unhealthy relationship with food, or a combination of those things. It doesn't mean you're weak just because you struggle. If you can struggle and smile, you know you're in a good place. And if you can open up and share your experiences to help others along the way with their journey, even better!
It has taken me so long to open up about my personal struggles with my health. And the struggles didn't just disappear because I lost weight. They are still there. But, at the end of the day I am still in it, working on improving my health so I can live the happiest, most fulfilling life possible.
I do believe that exercise and nutrition plays a huge role in your overall well being and happiness. And when you feel good on the inside by feeding your body the right foods, think positive thoughts, and are happy…. the outside will naturally follow.
So, every morning I start my day by reading some personal development along with my goals, affirmations, and prayer. This has worked magic in helping me keep an optimistic outlook in my life and passion in my heart. I also find that it gives me more energy! You should try it.
Do more things that make you smile. I have also surrounded myself with people who are working on their personal fitness goals each day and have experienced more happiness than I ever imagined as I help others achieve their goals, too!
Is there something holding you back from being happy? If there is something you don't like about yourself, CHANGE IT!! Lead by example and it will help motivate others to do the same. Read something that motivates you, do a quick workout, make a new healthy meal, and think of all the things you're grateful for!
And do it all with a smile on your face.
Everyone is different. What works for me won't necessarily work for you, but by starting my days off with goals, inspiration, and prayer I have lost weight and become one of the happiest people you could ever meet. And I wasn't always this happy. But I've learned to be GRATEFUL for what I have and to focus on where I'm going, not where I was yesterday.
By:Jamie Len Cumbo