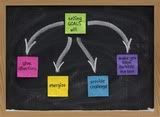 Do you believe in setting goals? I sure do.
Goals are great for so many reasons. Most importantly, they serve as a guideline to help keep us on the path of our passions and desires in life. I always say that your goals should make you really uncomfortable and give you goosebumps at the same time. That's how you know you're going in the right direction.
Back in October 2011, I went through a P90X & Shakeology transformation. After completing the program, I was so excited to share my story with others to show people what can happen if you want something badly enough. That it can be done, despite all those excuses.
So, I made a YouTube video, in hopes of inspiring a few people along the way as I continued on this journey to health.
One of the goals I set after making my transformation video was to have 100,000k hits by April 8th (which, at that time was 6 months away).
This number made me excited just thinking about it, because I knew the more people who saw it, the more lives I could potentially touch. So, every morning when I reviewed my goals, I read this: "I have 100,000 hits, or more, on my YouTube video by April 8, 2012." And have read this since October of last year.
I do not think it's an accident that it's up to almost 84,000 and averaging around 1500 hits a day…. With exactly two weeks to go. Whether or not it gets to 100,000k hit by April 8th is not the point, because this experience has brought an important reminder in my life.
A reminder, that goal setting is powerful and it works if you take the time to do it.
Here are 4 things to remember when you set your goals:
1. You must be specific in what you want.
2. Be passionate and excited about the goals you set
3. Set a deadline
4. Do not give up on the goals you desire the most.
Even if you don't see how it's possibly going to happen, keep focusing on them. Your subconscious mind will eventually figure out a way to bring it into your life. And with God's guidance, deciding what you want in life, and focusing on all the things you are grateful for as you work towards getting there… you will begin to attract things in your life you've never imagined.