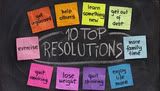 "Your goals should make you really uncomfortable and give you goose bumps at the same time" ~ Jamie Len Cumbo
This is the perfect time of year to reflect on what has happened the last 12 months of your life and decide that if you're not happy with something, you have the ability to change it. No matter what your circumstances are. And everyone wants to be happy, right? It is the one thing we all have in common.
Here are 5 simple things you can do to help those New Years Resolutions stick around this year.
1. Learn the Power of EMOTIONAL VISUALIZATION: You will automatically put yourself in a state of bliss when you close your eyes and play out in your mind your surroundings after reaching your goal. If it doesn't make you excited to think about the end result, then you may want to find a new goal.
2. Surround Yourself with Angels: Angels are those who support you in your journey and want to help you make positive changes in your life. They will help pick you up with encouraging words and shed light on some of the obstacles that come your way. The more you surround yourself with others who support you in your efforts to make positive changes in your life, the quicker you will reach your goals.
3. Write Out Your Plan and Review It Often: As detailed as you can, write out exactly what you want, when you want it by, and review it so often that you have it ingrained in your brain. You will begin attracting people and events into your life to get you closer to your goals. It's called the Law of Attraction.
4. Figure Out Why You Want to Change and What Will Happen if you Don't: Once you discover this, you will be more likely to stick to your goals long term. Reaching your goals will become non negotiable. You may have setbacks along the way, but you will eventually get there if you know why it's important to you.
5. Make Goals that Make You Smile: And make sure that you're really excited about them! The more you pursue the things you love, the less you will let things get in your way. Those obstacles will no longer keep you from reaching your goals, because if you're passionate about reaching them, nothing will be able to stop you.
This is the greatest time of year because many people started making changes this week that will change the course of their life forever. The important thing is learning how to make those changes stick around permanently. The key is to remember why you want the changes and work towards your goal every day. Consistency is key.
Every day of your life is New Years Day…and every day is a chance to start working passionately toward your goals.
By: Jamie Len Cumbo