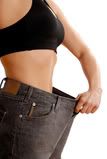 By: Jamie Len Cumbo
It's here! The time of year we the average person gains 3-5 lbs. We all know the holidays are a time where we are surrounded with lots of rich foods, alcohol, parties, and other temptations that we are not normally surrounded by every day. We tend to 'slack' off of our healthy regiments and vow to start fresh January 1st. But why not do it the right way this year?
I am really looking forward to the holidays and all of the festivities because for the first time ever, I know it's going to be about the people I am surrounded with and not the food. But there's no denying it, temptation is around every corner.
So, how can you stay committed to your healthy way of life during this time?
Here are 5 simple tips to help you stay on track during this holiday season.
1. Remember WHY you started: Remind yourself why you choose to eat healthy, why you have committed to this new way of life, and how much easier it will be to reach your goal if you don't give into all the temptation this holiday season. Every morning before you start the day, review your goals and make sure one of those includes the ideal weight you want to be at.
2. Load Up before you Head Out. Make sure you eat before you go to any holiday party. Then, snack on veggies or bring your own snacks to have. Make the parties about the people and not the food.
3. If You Bite It, Write It. You are more likely to be aware of everything you put into your mouth if you are writing it down. And make sure you write it down before you eat it. That way, when you see it and have time to think about it, you may actually change your mind.
4. Get Your Sweat On: Make sure you keep working out during this time. Not only will you continue to make your body a calorie burning machine, but you can have a treat and know that you burned off the calories. Make your workouts non-negotiable like brushing your teeth. Don't let those excuses hold you back now! You have come way too far for that.
5. Get Wasted on Seltzer: Alcohol can impair our judgment and make us eat things we wouldn't normally eat. It is also filled with empty calories and sugar. This holiday season, grab some seltzer water or club soda with lemon. This makes it appear like you are drinking (no one has know) and others won't feel the need to pressure you to have just one. Just try it. One holiday season without an alcohol drink. I dare you.
I once heard that watching what you eat isn't the hardest part of sticking to a healthy diet. It's watching what other people are eating around you. Remember, the food will always be there but that body you worked so hard to get can be gone if you forget everything it took to get you there.
Focus on the people you are blessed with to have in your life and make this holiday season one to remember how committed you were to your health.